10/18/16 This page is under construction.
Operation
Edit
The SJVR Kern local operates along the Buttonwillow Branch which runs 32 miles West from Bakersfield, CA. (Kern Jct) to Buttonwillow, CA.
The train should be blocked and sorted by the SJVR Crew in the SJVR Yard in the following sequence from South to North:
Trailing point spurs - Sun Coast Material - Ameripride - JG Boswell - Kern Fertilizer - Conner-Levee
Facing point spurs - Frito Lay - Hondo - US Cold Storage - Mid Cal Materials - 84 Lumber - West Coast Wood - Sierra Recycling and Demolition
The SJVR Crew then attaches their power to the South end of the consist and departs the heads down the BK yard lead and onto the UP main at Quantico. Once clear of the Quantico turnouts the train is backed North and past Kern Junction and pulls forward into Kern Junction to head West across the Buttonwillow Branch to make its setouts and pickups.
When finished working the branch, the crew should return to SJVR yard with their pickups reversing their original route and backing into the South end of the yard.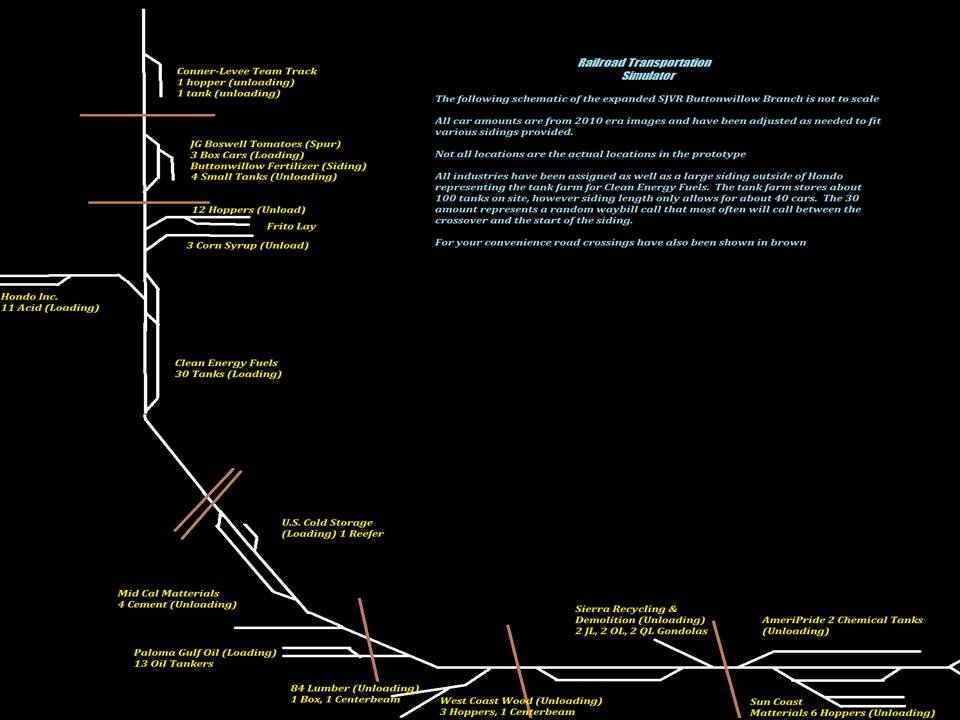 Ad blocker interference detected!
Wikia is a free-to-use site that makes money from advertising. We have a modified experience for viewers using ad blockers

Wikia is not accessible if you've made further modifications. Remove the custom ad blocker rule(s) and the page will load as expected.